Ultra Light Sunscreen,UVA and UVB Protection
Regular price
Sale price
Rs. 510.00
Unit price
per
Sale
Sold out
Manufacture Name – SHAKTI BIOTECH, MATEWARA, LDH
Country of Origin – India
Shelf Life Best Before use 24 months from Manufacture Date
Share
Ingredients

Octyl Methoxycinnamate, Zinc Oxide , Oxybenzone, Avobenzone, Cetostearyl Alcohol, Stearic Acid, Glyceryl, Monostearate, Iso Propyl Myristate, Titanium Dioxide, Glycrein , Light Liquid Paraffin, Tochopheryl Acetate, D-Panthenol, 2-Phenoxyethanol ,Di Sodium EDTA

Benefits

High SPF 50 Protection: Shield your skin from harmful UVA and UVB rays with our powerful SPF 50 sunscreen.

Ultra Light Gel: Enjoy a light and non-greasy texture that feels weightless on your skin.

All-Day Protection: Stay protected for extended periods, making it ideal for outdoor activities.

Prevents Sunburn: Our sunscreen helps prevent sunburn, keeping your skin healthy and damage-free.

UVA and UVB Defense: Defend against premature aging and pigmentation with our broad-spectrum protection.

Zinc Oxide: A natural mineral that forms a protective barrier against harmful UV rays, helping to prevent sunburn and skin damage.

Titanium Dioxide: Another mineral that acts as a physical sunscreen, reflecting and scattering UV radiation away from the skin's surface.

Octyl Methoxycinnamate: A UVB filter that helps shield your skin from the sun's burning rays.

Avobenzone and Oxybenzone: These ingredients absorb and dissipate UVA rays, safeguarding your skin from premature aging and pigmentation.

D-Panthenol: Known for its soothing properties, D-Panthenol helps keep your skin calm and comfortable under the sun.

Tocopheryl Acetate: A form of Vitamin E that provides antioxidant protection, shielding your skin from environmental damage.

How to Consume

Cleanse Your Skin: Start with clean, dry skin. Gently wash your face and any other exposed areas of your body that you plan to protect from the sun. Pat your skin dry with a clean towel.

Dispense a Small Amount: Squeeze a small amount of Ektek Biocare UV Bliss Sunscreen Gel SPF 50 onto your fingertips. You typically need about a nickel-sized amount for your face.

Apply Evenly: Begin applying the sunscreen by dabbing small dots onto your skin. Focus on your face, neck, ears, and any other exposed areas.

Blend Thoroughly: Using your fingertips, gently and evenly spread the sunscreen over your skin. Be sure to blend it in well to ensure complete coverage. Pay extra attention to areas that are more prone to sun exposure, like your nose, cheeks, and forehead.

Reapply as Needed: For the best protection, reapply the sunscreen every two hours or more frequently if you've been swimming, sweating, or towel-drying your skin. Reapplication is important to maintain sun protection.


View full details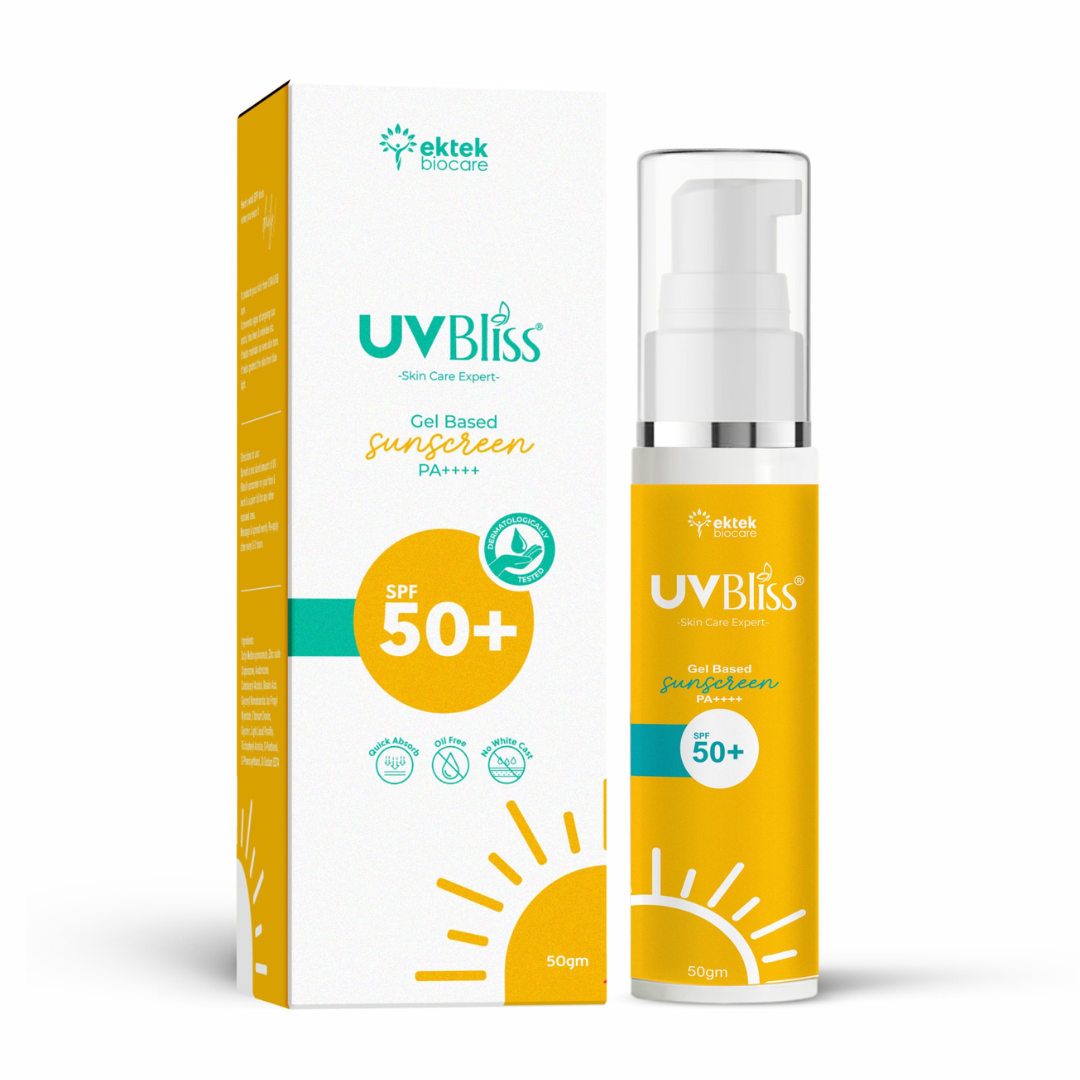 Why Ek-Tek Pharma?
Health Outcomes

Ayurvedic solutions delivered thoughtfully

Bespoke Ayurveda

Programs crafted by Ayurvedacharyas

Natural Ingredients

Carefully handpicked and sourced