Relieves Mental Stress, 100% Herbal, No Side Effects.
Regular price
Sale price
Rs. 200.00
Unit price
per
Sale
Sold out
Manufacture Name – SHAKTI BIOTECH, MATEWARA, LDH
Country of Origin – India
Shelf Life Best Before use 24 months from Manufacture Date
Share
Ingredients

Shankh Pushpi 100 mg, Jatamansi 50 mg, Udsaleev 25 mg, Gathivem 25 mg, Arjun Chaal 25 mg, Ashwagandha
50 mg, Brahmi 100 mg, Sarpgandha 50 mg, Malkangni 25 mg, Mukta Pisti 10 mg, Akik Pisti 10 mg, Parwal pisti 10 mg, Uste Khaduss 20 mg

Benefits

Stress Relief: EkTek StressCip Capsules bring together the calming influences of Shankh Pushpi, Jatamansi, and other natural ingredients to alleviate mental stress, promoting relaxation and emotional well-being.

Cognitive Clarity: Jatamansi and Gathivem work in synergy to enhance mental clarity, enabling you to navigate challenges with a focused and composed mind.

Emotional Balance: Ashwagandha's adaptogenic qualities help regulate the body's response to stress, promoting emotional balance even in demanding situations.

Restful Sleep: Udsaleev's gentle sedative properties contribute to improved sleep quality, aiding in rejuvenation and helping you wake up refreshed.

How to Consume

2-2 Capsules twice a day with water Morning Empty Stomach and Evening One Hour Before Meal

View full details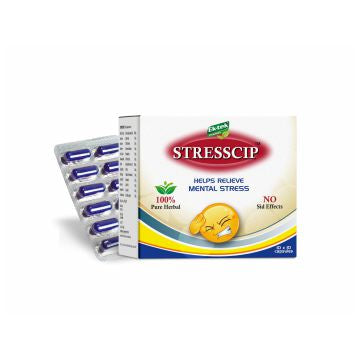 Why Ek-Tek Pharma?
Health Outcomes

Ayurvedic solutions delivered thoughtfully

Bespoke Ayurveda

Programs crafted by Ayurvedacharyas

Natural Ingredients

Carefully handpicked and sourced