Hair Fall Control, All-Natural Herbal Oil
Regular price
Sale price
Rs. 200.00
Unit price
per
Sale
Sold out
Manufacture Name – SHAKTI BIOTECH, MATEWARA, LDH
Country of Origin – India
Shelf Life Best Before use 24 months from Manufacture Date
Share
Ingredients

Onion Sd. Oil 2%, Black Seed Oil 1%, Saw Palmetto Fr. Oil 0.5%, Olive Fr. Oil 2%, Almond Sd.Oil 2%, Coconut Fr. Oil
5%, Bhringraj Wh.Pl.Oil 2%, Amla Fr.Oil 3%, Brahmi Wh.Pl. Oil 2%, Jatamansi Rt.Oil 2%, Neem Sd.Oil 1%, Tea Tree Lf.Oil 0.2%, Methi Sd.Oil 2%, Curry Patta Lf. Oil 1%, Shikakai Pd.Oil 1%, Rosemary Lf.Oil 0.2%, Till Sd. Oil 30%

Benefits

Onion Seed Oil (2%): Renowned for its hair-strengthening properties, it reduces hair fall and promotes healthy growth.

Black Seed Oil (1%): Rich in essential fatty acids, it nourishes hair follicles, encouraging regrowth and shine.

Saw Palmetto Fruit Oil (0.5%): Supports hair thickness and scalp health.

Olive Fruit Oil (2%): Provides deep hydration, leaving hair soft and manageable.

Almond Seed Oil (2%): Rich in vitamins and minerals, it fortifies hair strands for added strength and brilliance.

Additional Benefits:
Suitable for all hair types.
Free from harmful chemicals, sulfates, and parabens.
Promotes thicker, shinier, and more manageable hair.
Restores scalp health, reducing dandruff and itchiness.
Encourages a soothing and revitalizing hair care routine.

How to Consume

3 Times in a week at night before Head Wash For Ladies

View full details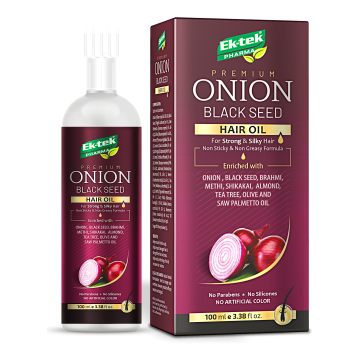 Why Ek-Tek Pharma?
Health Outcomes

Ayurvedic solutions delivered thoughtfully

Bespoke Ayurveda

Programs crafted by Ayurvedacharyas

Natural Ingredients

Carefully handpicked and sourced