Vitamin-Enriched Natural Immunity Booster for Kids
Regular price
Sale price
Rs. 200.00
Unit price
per
Sale
Sold out
Manufacture Name – SHAKTI BIOTECH, MATEWARA, LDH
Country of Origin – India
Shelf Life Best Before use 24 months from Manufacture Date
Share
Ingredients

Moringa 25 mg, Ashavgandha 75 mg, Satawer 75 mg, Barahikand 25 mg, Gokharu 25 mg, Kala Jeera 40 mg, Amla 50 mg, Arjuna 25 mg, Safaid Musali 25 mg, Akarkra 25 mg, Jawatri 25 mg, Talmakhand 25 mg, Navkesar 25 mg, Choti Elechi 10 mg

Benefits

Immunity Boost: EkTek Multitek Drops are a powerhouse of vitamins, minerals, and antioxidants, providing robust support for your immune system. Fortify your body's defenses and embrace a resilient, vibrant life.

Bone Strengthening: Experience the nourishment of nature as these drops promote bone health and strength. Essential ingredients like Satawar and Gokharu work in harmony to support your skeletal wellness.

Vital Nutrients: Immerse yourself in a blend teeming with essential vitamins, minerals, and antioxidants. Let the goodness of Amla, Safaid Musali, and more revitalize your body from within.

Digestive Harmony: EkTek Multitek Drops are more than just a supplement; they're a holistic digestive tonic. Kala Jeera and Navkesar work to maintain stomach health, promoting better digestion and overall well-being.

Vision and Mind: Nourish your eyes and support mental clarity with ingredients like Moringa and Choti Elechi. These drops contribute to eye health and act as a nervine tonic, helping you stay focused and balanced.

Natural Rejuvenation: Embrace the restorative power of herbs like Ashwagandha and Jawatri. These drops provide a natural boost to your vitality, aiding in rejuvenation and enhancing your overall energy levels.

How to Consume

5-10 Drops twice a day upto 5 year Childern

View full details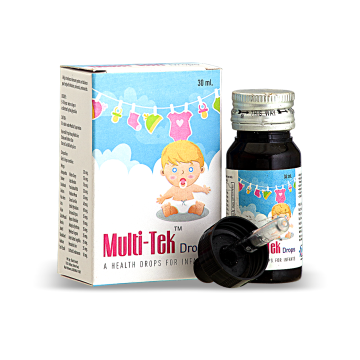 Why Ek-Tek Pharma?
Health Outcomes

Ayurvedic solutions delivered thoughtfully

Bespoke Ayurveda

Programs crafted by Ayurvedacharyas

Natural Ingredients

Carefully handpicked and sourced