Family Multivitamin,Natural Ayurvedic Formula
Regular price
Sale price
Rs. 200.00
Unit price
per
Sale
Sold out
Manufacture Name – SHAKTI BIOTECH, MATEWARA, LDH
Country of Origin – India
Shelf Life Best Before use 24 months from Manufacture Date
Share
Ingredients

Moringa 25 mg, Jaifal 15 mg, Javitri 20 mg, Akarkara 40 mg, Salem Misri 30 mg, Salem Panja 30 mg, Kaunch Beej 50 mg, Tal Makhana 30 mg, Beej Tangan 35 mg, Sudh Shilajit 15 mg, Gokhru 35 mg, Satawar 40 mg, Ashwagandha 40 mg, Dal Chini 10 mg, Amrit Bhasam 5 mg, Loh Bhasam 5 mg, Sakaal 20 mg, Salam Gatha 30 mg

Benefits

Complete Family Health: EkTek Multivitamin Capsules are formulated to cater to the health needs of the entire family, promoting vitality, strength, and well-being across all age groups.

Enhanced Immunity: The powerful combination of Moringa and other natural ingredients empowers the immune system to fight off daily challenges effectively.

Stress Relief: Kounch Beej's adaptogenic properties help the body manage stress and maintain mental clarity, ensuring a balanced and harmonious lifestyle.

Hormonal Balance: Satawar contributes to hormonal equilibrium, especially beneficial for women, offering support for reproductive health and overall balance.

Vigor and Vitality: Akarkara's energy-boosting qualities revitalize the body, enhancing stamina and promoting a dynamic and active life.

How to Consume

One Capsules Once A Day with Milk, Water and Juice

View full details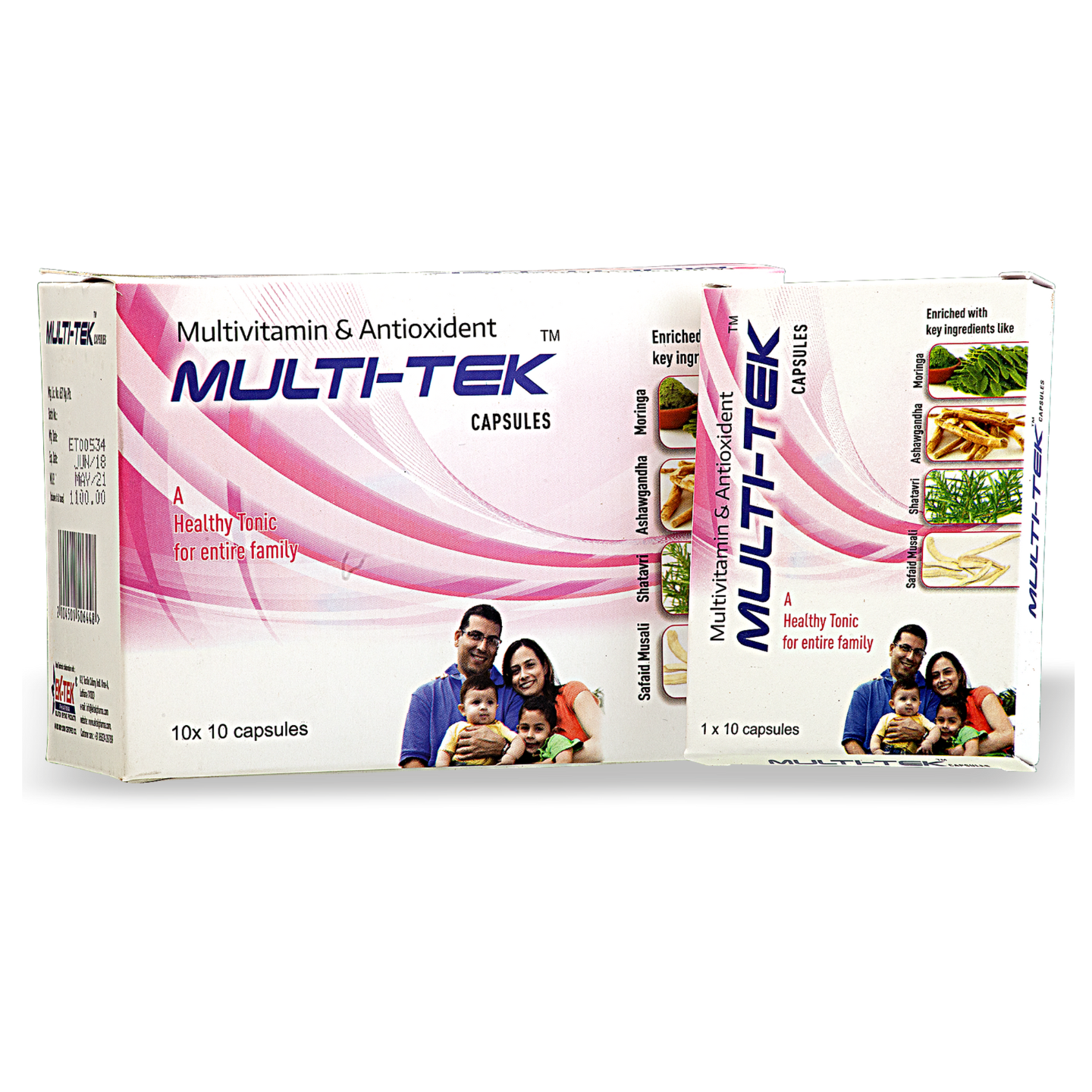 Why Ek-Tek Pharma?
Health Outcomes

Ayurvedic solutions delivered thoughtfully

Bespoke Ayurveda

Programs crafted by Ayurvedacharyas

Natural Ingredients

Carefully handpicked and sourced