Dissolves kidney stones
Regular price
Sale price
Rs. 200.00
Unit price
per
Sale
Sold out
Manufacture Name – SHAKTI BIOTECH, MATEWARA, LDH
Country of Origin – India
Shelf Life Best Before use 24 months from Manufacture Date
Share
Ingredients

Kulthi Seed 400 mg ,Varun Stem Bark 300 mg, Pashan Bhed Rhizome 300 mg, Punarnava Whole Plant 300 mg, Gokhru Fruit 200 mg, Giloy Stem 200 mg , Ikshumool Rootstock 200 mg, Apamarg Whole Plant 150 mg, Tulsi Whole Plant 100 mg , Makoi Whole Plant 100 mg, Nimba Leaf 100 mg, Chharila Lichen 100 mg, Pitpapra Whole Plant 100 mg, Kasni Whole Plant 100 mg, Musta Rhizome 50 mg, Dhania Seed 50 mg, Plasha Pushpa Flowers 50 mg, Shatavari Roots 50 mg, Tejpatra Leaves 25 mg, Kalmi Shora Powder 25 mg, Yava Kshaar Whole Plant 25 mg, Sendha Namak Powder 5 mg, Elachai Seed 10 mg, Shilaheet Exudate 10 mg, Sorbitol 50% w/v

Benefits

Experience relief from the discomfort and pain of kidney stones with Ektek Kilstone Syrup. Our sugar-free formula is specially designed to aid in the dissolution of kidney stones while promoting kidney health.

Key Ingredients:
Kulthi Seed: Supports the breakdown of kidney stones and eases their passage.
Varun Stem Bark: Known for its diuretic properties, it aids in the breakdown and flushing out of kidney stones.
Pashan Bhed Rhizome: Traditionally used for dissolving kidney stones and alleviating urinary discomfort.
Punarnava Whole Plant: Acts as a natural diuretic and aids in kidney stone management.
Gokhru Fruit: Promotes urinary flow and helps eliminate kidney stones.
Giloy Stem: Supports overall kidney health and function.
Ikshumool Rootstock: Assists in preventing stone recurrence and maintaining kidney health.
Apamarg Whole Plant: Supports kidney function and helps prevent new stone formation.
Tulsi Whole Plant: Provides additional kidney support and promotes urinary tract health.
Makoi Whole Plant: Aids in reducing the risk of stone formation.
Nimba Leaf: Supports kidney health and stone dissolution.
Chharila Lichen: Aids in reducing the risk of stone formation.

Additional Benefits:
Natural kidney stone dissolving syrup.
Promotes kidney health and function.
Eases pain and discomfort associated with kidney stones.
Aids in the safe passage of kidney stones.
Supports urinary tract health.
Sugar-free formula.
100% Ayurvedic blend.
Free from harmful additives or preservatives.

How to Consume

Two-Three Teaspoon Full twice a day after meal

View full details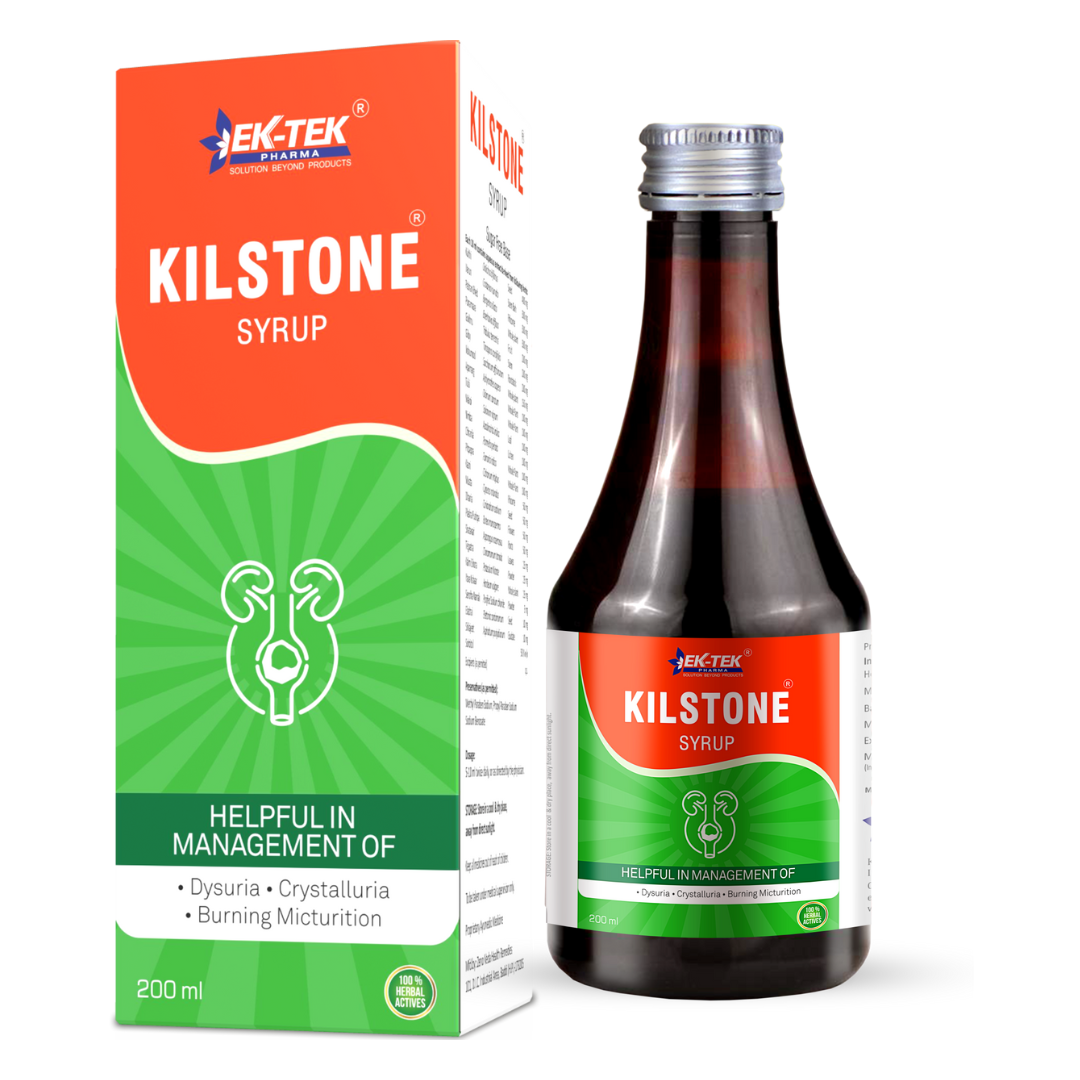 Why Ek-Tek Pharma?
Health Outcomes

Ayurvedic solutions delivered thoughtfully

Bespoke Ayurveda

Programs crafted by Ayurvedacharyas

Natural Ingredients

Carefully handpicked and sourced