Glycolic Acid and Salicylic Acid
Regular price
Sale price
Rs. 200.00
Unit price
per
Sale
Sold out
Manufacture Name – SHAKTI BIOTECH, MATEWARA, LDH
Country of Origin – India
Shelf Life Best Before use 24 months from Manufacture Date
Share
Ingredients

Glycolic Acid, Sallcylic Acid, Aloe Vera Extract , Vitamin-E Acetate

Benefits

Glycolic Acid Brilliance: Infused with the power of Glycolic Acid, our facewash promotes gentle exfoliation, effectively removing dead skin cells and revealing brighter, smoother skin underneath.

Salicylic Acne Control: Salicylic Acid brings its acne-fighting prowess to the formula, helping to unclog pores and manage excess oil. This ingredient contributes to a clearer complexion, making it an essential addition for blemish-prone skin.

Vitamin E Nourishment: Vitamin E enhances your skin's well-being with its antioxidant properties. It supports skin repair, provides hydration, and helps protect against environmental stressors.

Foaming Efficacy: Our facewash transforms into a luxurious foam upon application, ensuring thorough and effortless cleansing. The foaming action reaches deep into pores, leaving your skin feeling refreshed and rejuvenated.

Radiance Unveiled: Ektek FacioWhite Foaming Facewash works synergistically to promote a more even skin tone, smoother texture, and a renewed radiance. Say hello to a brighter, more luminous complexion.

Comprehensive Cleansing: With Glycolic Acid for exfoliation, Salicylic Acid for pore management, and Vitamin E for nourishment, this facewash offers a comprehensive approach to cleansing and rejuvenating your skin.

Suitable for Most Skin Types: Ektek FacioWhite Foaming Facewash is suitable for a range of skin types, including oily, combination, and normal. Its balanced formula ensures effective results without compromising on gentleness.

How to Consume

Apply Twice a day two minute then wash with water

View full details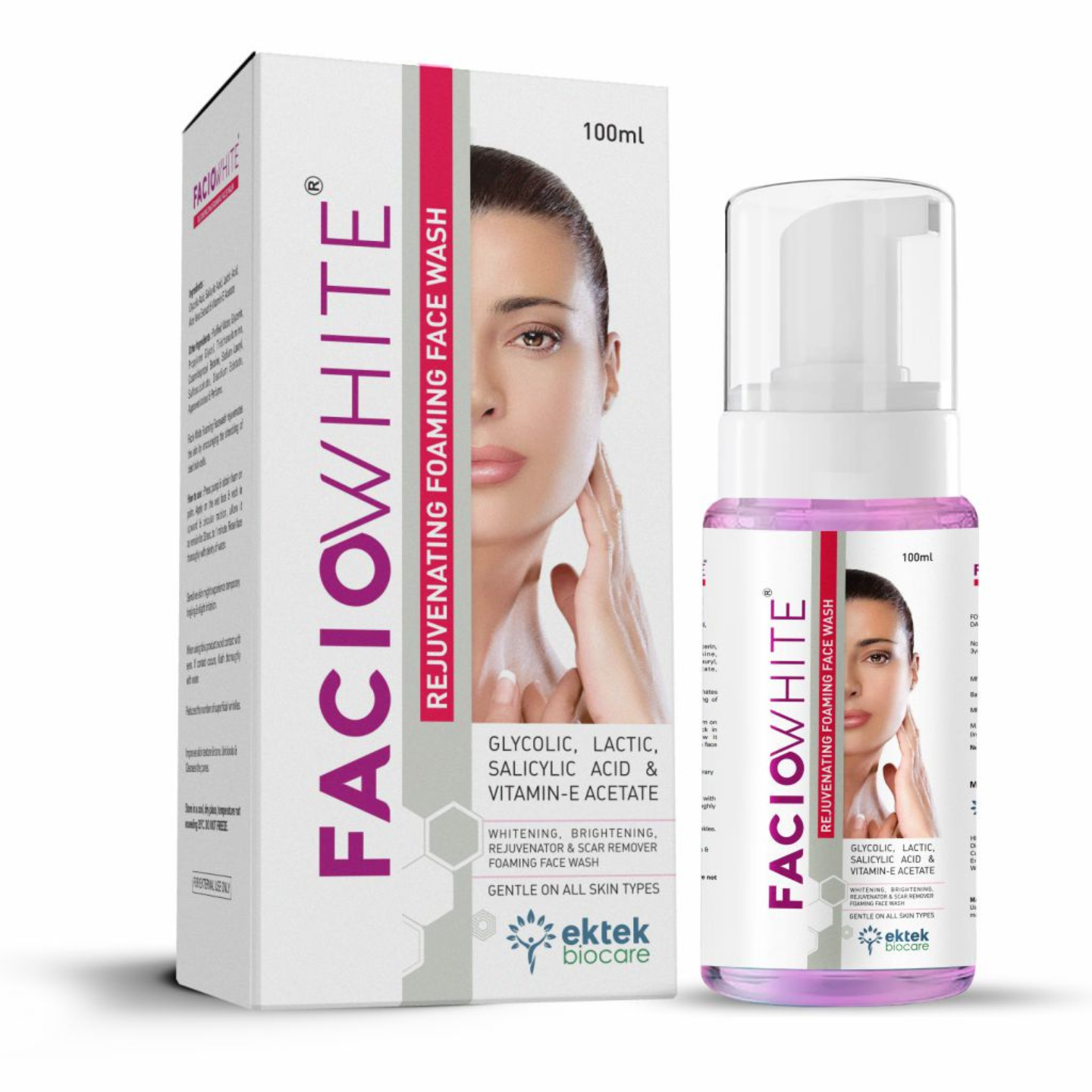 Why Ek-Tek Pharma?
Health Outcomes

Ayurvedic solutions delivered thoughtfully

Bespoke Ayurveda

Programs crafted by Ayurvedacharyas

Natural Ingredients

Carefully handpicked and sourced