Kabaz di phakki,Constipation relief
Regular price
Sale price
Rs. 200.00
Unit price
per
Sale
Sold out
Manufacture Name – SHAKTI BIOTECH, MATEWARA, LDH
Country of Origin – India
Shelf Life Best Before use 24 months from Manufacture Date
Share
Ingredients

Sounf 15 gm, Sunthi 10 gm, Jang Harar 10 gm, Sharnay Patti 05 gm ,Kala Dana 10 gm, Ajawayan 20 gm, Anar Dana 10 gm, Annat Mule 10 gm, Sudh Shilajeet 05 gm,Samunder Lawan 05 gm

Benefits

Ektek pharma Dialax powder, constipation relief, stomach problem, constipation problem, stomach upset, stomach tighteness, constipation relief, kabz haran, kabja har churna,

Time-Tested Ingredients: Our formulation draws from centuries of wisdom, bringing together nature's treasures like Sounf, Sunthi, and Jang Harar. These natural ingredients work in synergy to encourage smooth and regular bowel movements.

Digestive Harmony: Discover the power of Sharnay Patti, Kala Dana, and other carefully chosen elements that promote digestive harmony. With Ajawayan and Anar Dana, our powder supports healthy digestion and prevents further discomfort.

Natural Restoration: Ektek Pharma Dialax Powder is committed to providing relief in the gentlest manner possible. Our natural formulation respects your body's needs, allowing you to restore comfort and regularity naturally.

Experience the joy of a well-balanced digestive system with Ektek Pharma Dialax Powder. Reclaim your vitality as the power of Sounf, Sunthi, and other natural ingredients combine to support gentle and effective constipation relief. Choose EkTek for a naturally restored you.

How to Consume

1 Teaspoon Full with Luke Warm Water at night after meal

View full details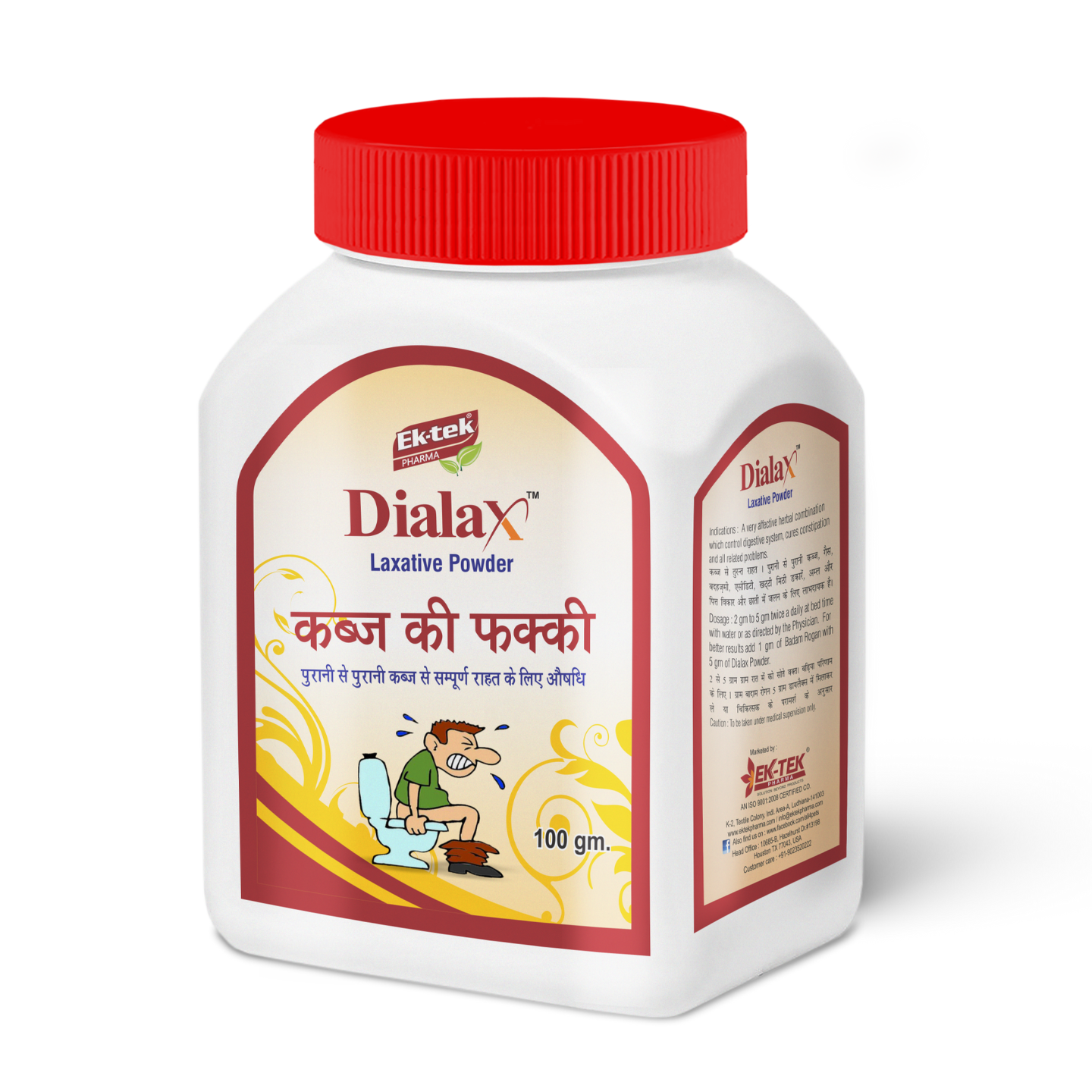 Why Ek-Tek Pharma?
Health Outcomes

Ayurvedic solutions delivered thoughtfully

Bespoke Ayurveda

Programs crafted by Ayurvedacharyas

Natural Ingredients

Carefully handpicked and sourced