Aloe Vera, Vitamin E, Allantoin, Tea Tree Oil
Regular price
Sale price
Rs. 270.00
Unit price
per
-Liquid error (snippets/price line 90): divided by 0% OFF
Sold out
Manufacture Name – SHAKTI BIOTECH, MATEWARA, LDH
Country of Origin – India
Shelf Life Best Before use 24 months from Manufacture Date.
Share
Ingredients

Aloe Vera, Vitamin-E Acetate, Wheat Germ Oil, Tea Tree Oil, Allantoin, D.M. Aqua, Carbomers, Sodium Lauryl Ether Sulphate, Phenoxyethanol, Disodium EDTA.
Benefits


Aloe Vera Elixir: Infused with the natural healing powers of Aloe Vera, our face wash gently cleanses while delivering moisture and soothing benefits. Experience the revitalizing effects of this age-old plant on your skin.

Vitamin-E Boost: Vitamin-E Acetate brings a touch of antioxidant goodness to your skincare routine. It helps protect your skin from environmental stressors, promoting a radiant and youthful appearance.

Nourishing Blend: Discover the nourishing touch of Wheat Germ Oil, rich in vitamins and essential fatty acids. This ingredient enhances your skin's natural glow, providing essential nutrients for a healthier complexion.

Tea Tree Freshness: Tea Tree Oil lends its natural antiseptic properties, promoting a clear and refreshed complexion. It gently cleanses and maintains skin's natural balance.

Skin Comfort for every skin type: Allantoin brings its soothing properties to the formula, ensuring that your skin feels comfortable and balanced after each use. It is Suitable for all skin types

Expert Formulation: Our face wash is thoughtfully crafted with a blend of D.M. Aqua, Carbomers, Sodium Lauryl Ether Sulphate, Phenoxyethanol, and Disodium EDTA to provide a gentle yet effective cleansing experience.

Daily Revival: Ektek Aloe Vera Face Wash is designed for daily use, making it a cornerstone of your skincare regimen. Its natural ingredients work in harmony to leave your skin feeling refreshed, revitalized, and ready to face the day.

Unveil the radiance of your skin with Ektek Aloe Vera Face Wash. Experience the synergistic benefits of Aloe Vera, Vitamin-E Acetate, and other natural ingredients that cleanse, nourish, and rejuvenate your complexion. Choose EkTek for a skincare routine that celebrates the beauty of nature.

View full details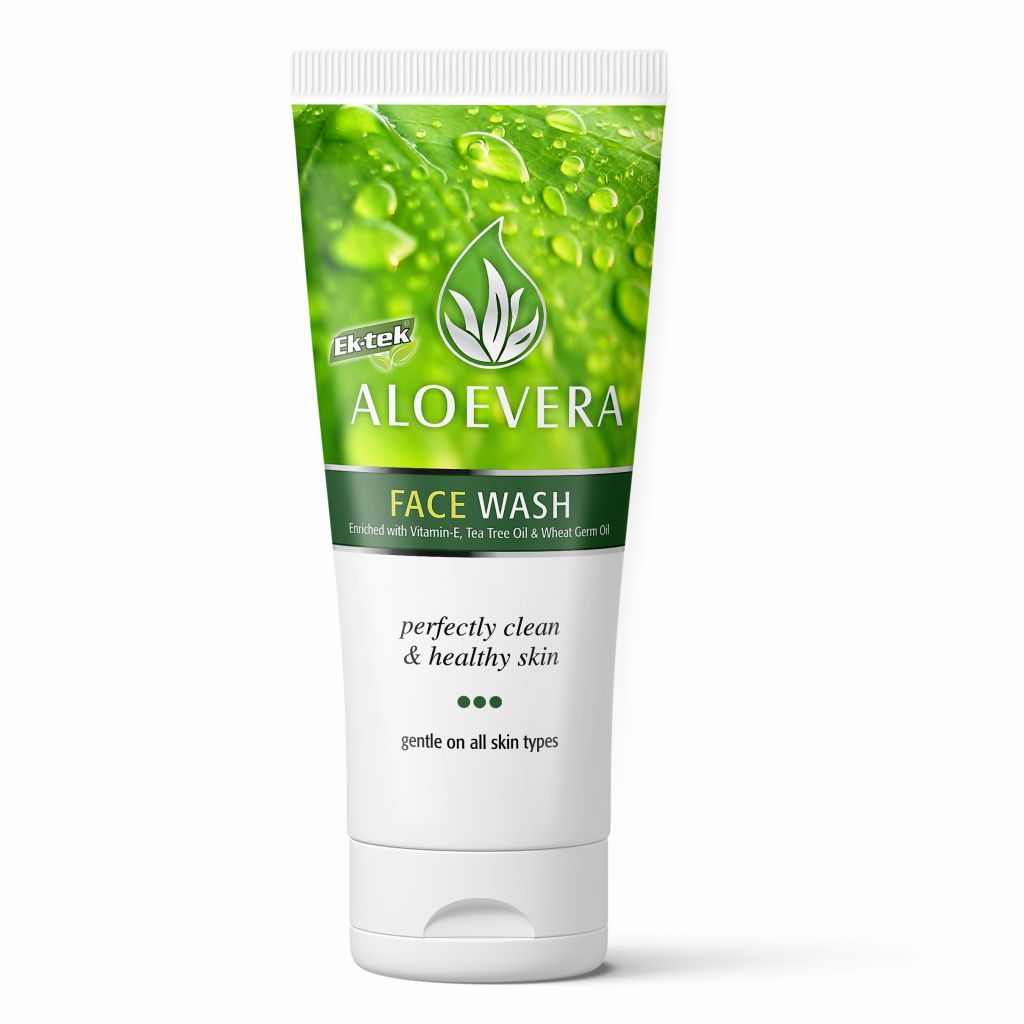 Why Ek-Tek Pharma?
Health Outcomes

Ayurvedic solutions delivered thoughtfully

Bespoke Ayurveda

Programs crafted by Ayurvedacharyas

Natural Ingredients

Carefully handpicked and sourced