Vigour, Vitality, Stamina, Strength, Premature Ejaculation|
Regular price
Sale price
Rs. 325.00
Unit price
per
-Liquid error (snippets/price line 90): divided by 0% OFF
Sold out
Manufacture Name – SHAKTI BIOTECH, MATEWARA, LDH
Country of Origin – India
Shelf Life Best Before use 24 months from Manufacture Date.
Share
Ingredients

Musli Safed-3gm, Salab Panja-3gm, Salab Mishri-3gm, Talmakhana-5gm, Pasanbheda-4gm, Shatavari-5gm, Kounch Beej-5gm, Moch Ras-5gm, Bang Bhasm-2gm, Swarn Mashika-8gm, Gokhuru-5gm, Ashwagandha-8gm, Mishri-44gm
Benefits

`Natural and Safe: The product's formulation is based on traditional Ayurvedic principles and incorporates time-tested herbs. As a result, Ektek Viryatone Powder offers a natural and holistic approach to addressing male sexual health concerns without the potential side effects often associated with synthetic alternatives.

Supports Confidence: The potential improvement in sexual performance and vitality can have a positive impact on a man's self-esteem and confidence. Feeling more in control and vital can extend beyond the bedroom and into daily life

Rejuvenation and Revitalization: Ektek Viryatone Powder is designed to holistically rejuvenate the body, supporting not only sexual health but also overall well-being. Ingredients like Musli and Shatavari are believed to possess adaptogenic properties that may help combat stress, fatigue, and other factors that can contribute to sexual difficulties

Premature Ejaculation Management: Ektek Viryatone Powder contains Ashwagandha and Musli, renowned for their potential to enhance stamina and control over ejaculation. These ingredients may help extend the duration of sexual activity, allowing for a more fulfilling experience for both partners.

Men's Vitality Enhancement: The carefully selected herbs in the formula, such as Shatavari and Swarn Mashika, are believed to contribute to improved vitality and vigor in men. They may help boost energy levels, increase endurance, and enhance overall physical performance.

How to Consume

1-2 Two Teaspoon Full with Milk or Water for Patients of Night Fall and Pre-Mature Ejactulation.
Its increase time also

View full details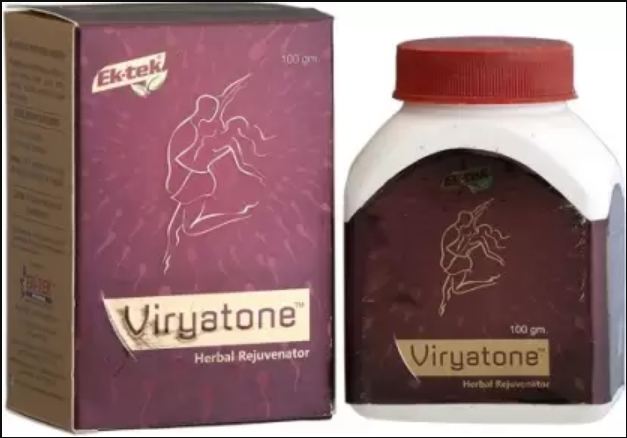 Why Ek-Tek Pharma?
Health Outcomes

Ayurvedic solutions delivered thoughtfully

Bespoke Ayurveda

Programs crafted by Ayurvedacharyas

Natural Ingredients

Carefully handpicked and sourced