Increases Platelet Count with Giloy, Papaya Leaves, Kiwi, and Tulsi
Regular price
Sale price
Rs. 200.00
Unit price
per
Sale
Sold out
Manufacture Name – SHAKTI BIOTECH, MATEWARA, LDH
Country of Origin – India
Shelf Life Best Before use 24 months from Manufacture Date
Share
Ingredients

Giloy Extract 25%, Papaya Leaves Extract 50%, Tulsi Extract 23%, Black Pepper 2%, Processed in (Bhavna Dravya) Kiwi 25%, Papaya Leaves 25%

Benefits

Platelet Boost: EkTek PlatoGrow Capsules are thoughtfully formulated to elevate platelet count, aiding the body's natural ability to defend against health challenges. The synergy of Giloy, Papaya Leaves, and Tulsi Extract promotes a healthy platelet level, supporting overall well-being.

Fever Management: These capsules are designed to be your companion during fever episodes. The blend of carefully chosen ingredients works together to provide gentle relief and help the body manage fever-induced discomfort.

Helpful in increasing platelet count in case of dengue fever, chikungunya and swine flu

Not only can does Platogrow help in speedy recovery and increasing platelets. It also helps in post recovery symptoms like rhematoid Arthritis and joint pain

It is also helpful in reducing symptoms of diabetes and also Useful as an antioxidant.

How to Consume

1 Capsules Twice a Day after meal

View full details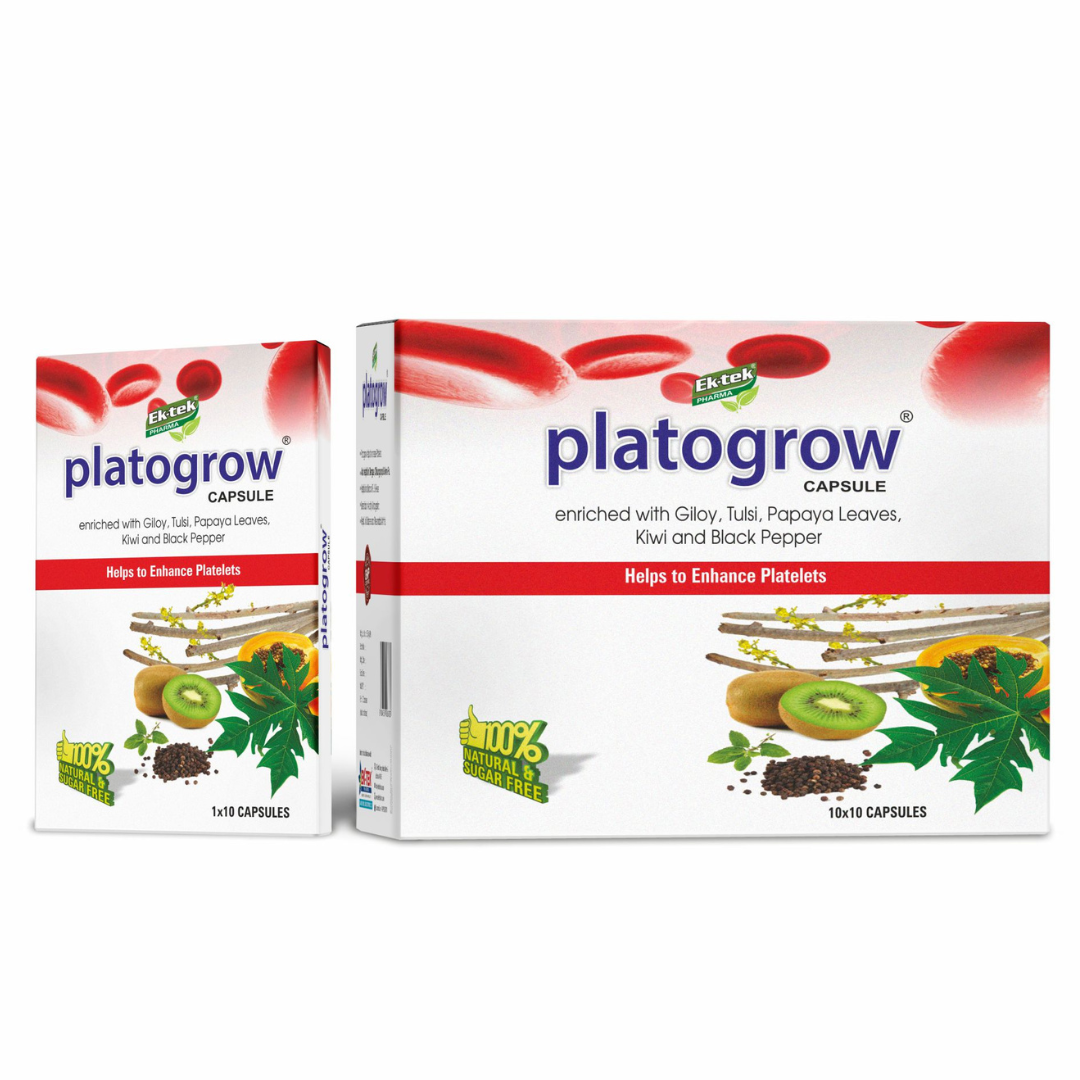 Why Ek-Tek Pharma?
Health Outcomes

Ayurvedic solutions delivered thoughtfully

Bespoke Ayurveda

Programs crafted by Ayurvedacharyas

Natural Ingredients

Carefully handpicked and sourced